About Etomic Construction Management and General Contracting
Etomic is a leader among NJ general contractors and is a construction contracting firm specializing in all levels of commercial, industrial, retail and residential new and renovation building projects, maintaining 30 years of successful "on time" completion and "within budget" for each project.

We are Insured & Bonded.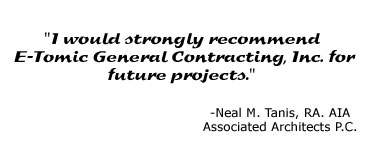 Etomic General Contracting has been a licensed General Contractor in NJ for over 30 years and supplies full-service construction services from the grounds to the roofing.

Excavation and site work
Structural steel
Masonry and concrete
Framing (Wood & Steel)
Truss / Fascia / Deck / Roofing
Flooring
Finishing
All types of exterior finishes
Doors and hardware
Drywall
Painting
Etomic General Contracting and Construction Management is Insured, bonded, approved and/or certified by several NJ and National Building Associations and and boards including:
New Jersey Economic Development Authority (NJEDA) – approved.

State of New Jersey Department of Labor Public Works Contractor Registration Act

State of New Jersey Department of the Treasury Division of Property Management and Construction (DPMC) approved.

New Jersey Schools Construction Company (NJSCC) approved.

Certified for projects up to 11 million dollars
Construction Management Services
Tenant Fitouts
Some current successful completed projects included retail shopping centers, mall interiors, various make auto dealerships, military commissaries, multi-story condominiums, medical and healthcare renovations, high security office projects, multi-level apartment complexes, manufacturing & industrial type buildings.
Some of our key, forward-facing personnel you may work with during your relationship with Etomic General Contracting include:
John Tomic - Owner/President of E-Tomic General Contracting, Inc.
As owner and President of Etomic for thirty years, John has been guiding the growth of the company not only in terms of volume of work, but more importantly in terms of a high quality building reputation of diversity of activities, in the USA and Internationally. The procurement and construction of commercial and residential work, new construction and renovations. Estimating, supervisory field activities, quality and cost controls are all part of his knowledge and duties. John enjoys hunting and fishing. He is a true outdoorsman. He resides in Paramus with his wife, Nellie, a son and daughter who both attend the University of Delaware.
Rhys T Williams - Senior Project Manager E-Tomic General Contracting, Inc.
Rhys has over 30 years experience in the construction field with varying experience.
The first 15 years spent of his career Rhys was a working carpenter learning best construction practices from the ground up.
After he completed courses in construction management at Middlesex County College and obtaining a Building and Mechanical inspector license from the NJ department of Community of Affairs he advanced into the management side of the construction business.
With experience both new construction and renovation work the last 10 years he has been building affordable housing, multi family and mid-rise construction.
By thinking outside the box Rhys has developed cost cutting ideas and the ability to accelerate a construction schedule
He lives in Randolph NJ with his wife and has 3 grown children a granddaughter and a dog named Kramer.
Rhys enjoys relaxing on the weekends and frequenting their condo in Naples Florida.
Etomic General Contracting and Construction Management is Insured, bonded, approved and/or certified by several NJ and National Building Associations and and boards including:
New Jersey Economic Development Authority (NJEDA) – approved.
State of New Jersey Department of Labor Public Works Contractor Registration Act
State of New Jersey Department of the Treasury Division of Property Management and Construction (DPMC) approved.
New Jersey Schools Construction Company (NJSCC) approved.
Certified for projects up to 11 million dollars